Are you in a stress, anxiety or uneasiness situation?
Do you feel you need to stand back, to change, to accept?
Are you looking for appeasement, more emotional balance,  a feeling of fulfillment?
Through meditation practice, I can accompany you on your way.
My support is based on mindfulness practices, aiming at developing your resources in dealing with invasive emotions, pain, stress or illness.
Whether alone or in group, these practices enable us to become aware of our inner reactions, stand back and reconnect to our intrinsic loving-kindness towards others and ourselves. As far as meditation is concerned, I work with adults and teenagers (from 13yo) exclusively.
As regards meditation workshops, they are currently organised at Association Lou Mercat (Gaillac) and Maison de l'Amitié (Albi). These two institutions are in charge of both agenda and registration: please do look at their websiste to learn about their agenda and registration details. If you'd like to set up your own meditation group with friends, work colleagues or family, feel free to contact me directly.

For some years now, the benefits of mindfulness meditation practice have been widely recognized in Western countries, both regarding psychological and physical health.
→ What is meditation?
→ For whom? For what?
→ What is a session like?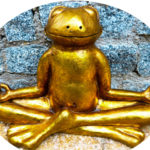 What does « meditation » mean?

Meditation is very fashionable nowadays and its covers a range of varied practices which aim at returning back to oneself. The term being a catchword that might refer to anything and everything, explaining what I mean by meditation is probably helpful.
Meditation is a training of the mind which constists in coming back, again and again, to the here and now, in welcoming ourselves as we are and the situation as is right now. Thus, it consists in doing nothing, in feeling, in being. It isn't a search for well-being and it does not require to suffer to be zen. We just let our experience, whether comfortable or not, unfold.
Meditation is not a doctrine or a religion. It's a practice, meaning that you must experience it in order to understand what it is, what you are working with at personal level, and reap the fruit of it. A buddhist metaphor says that our mind is like muddy water: if we stop agitating, mud particles settle and the water goes back to its natural clarity. The practice of meditation helps us learn how to put a little bit of space between ourselves and our thoughts or emotions, and they less and less lead us by the nose.
Who is it for? What is it for?

By increasing tolerance to uncomfortable thoughts, emotions and situations, and provided a it is practiced regularly,  meditation  is quite helpful to:
– reconnect with one's body
– reconnect with one's emotions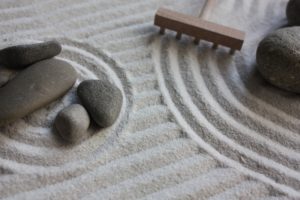 – decrease rumination, anxiety, stress conditions
– prevent the relapse of depressive states
– foster a better control of impulses: anger, overeating, substance addiction cessation…
– relax « control-freak » behaviours
– alleviate the overflow of emotional and thought agitation, whether episodic or chronic
–  contribute to chronic pain management.
At physiological level and provided  it is practiced regularly, meditation has scientifically demonstrated effects on our immunological response, reduced inflammation, the reactivity of our autonomous nervous system, blood pressure, increase in telomerase activity, urinary and plasma melatonin levels etc.
⇒ Important notice: meditation isn't a therapy and it isn't a substitute for psychological/psychiatric therapy.
Contraindications
Remaning alone with oneself with no other intention than observing one's experience is not helpful, and might even be dangerous, in some situations. It is therefore important to work with a seasoned meditation instructor, able to say 'no' and to redirect you if need be.
Meditation is contraindicated in case of:
– accute depressive phase
– certain attention disorders
– recurring panic attacks
– psychotic disorders (hallucinations, delusion…)
– accute psychological or disassociative states.
What a session looks like

Meditation does not require any specific outfit and the practice can be adaptated to any physical condition.
The first session lasts one hour. Its purpose is to understand what you expect and to see together how meditation can (or, equally important, cannot) be a helpful practice for you, in your own situation.
For example, if you're looking for a meditation technique to tackle anxiety or stress spikes, mindfulness complemented with cardiac coherence biofeedback are powerful tools.
If you suffer from eating disorders, our work will rather focus on the exploration and reception of bodily sensations and emotionnal feelings.
Depending on the work we set up together, we will agree on the periodicity of the following sessions, their duration and their price (according to your income).
Doubts or questions? Please contact me, I'll be happy to provide answers!
→ Back to homepage (English)