Harmonizes (prevention) and contributes to easing the body's dysfunctions (correction) so that it works at the best of its own resources, at physical, emotionnal, and psychological levels.
→ What is shiatsu?
→ For whom? For what?
→ Session format
→ Frequency of sessions

Shi: 'end of the hands', and Atsu: 'pressure'
About shiatsu
Shiatsu is a Japanese discipline based on the principles of Chinese medecine. Shiatsushis (shiatsu practitioners) use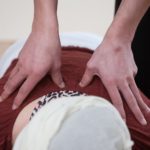 their thumbs, fingers and palm to press along specific channels, zones and points. It aims at harmonizing and at contributing to ease the body's dysfunctions, so that it works at the best of its own resources, at emotional, physical and psychological levels.
The World Health Organization (WHO) states that shiatsu belongs to the 'traditional medecine' category and the European Parliament lists it in the « Complementary and Alternative Medicine » category. In France, since July 2015, there's a professional certification (titre RNCP) called 'Spécialiste en Shiatsu.' For lack of rules concerning the practice of shiatsu, it is considered in France to be a natural energetic discipline based on touch, which belongs to the domain of health improvement, as a health practice complementary to conventional medicine.
♦ Please note: shiatsu is not reimbursed by the French Sécurité sociale but some French health mutuals/insurances cover it, depending on the guarantee you subscribed to.
Shiatsu for whom? For what?
A shiatsu takes into account individuals as a whole: the work will be specific to each person, based on their physical, emotional and mental condition. It is suited to every age and physical condition. Based on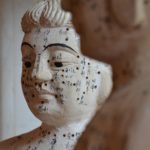 the principles of 'Chinese medecine' and on anatomy/physiology principles–close to those of osteopathy and fasciatherapy–, shiatsu can effectively ease a number of conditions. It is particularly efficient on stress, anxiety, fatigue, and boosts psychological and emotional harmony.
The principe of shiatsu is to stimulate the body's self-ability to heal. 
The pace and depth of pressure on specific areas of the body generate profound relaxation. Another dimension of shiatsu is to help the body recover its natural healing functions by releasing existing tensions. As a balancing technique, it will boost you if you're tired and calm you if you're stressed.
Indications
Shiatsu stimulates the body's natural defences, fosters the good functioning of the nervous sytem and that of endocrine glands, stimulates the blood, lymphatic and energetic circulations, improves the flexibility of muscular tissues, corrects minor skeletal defaults.
The most frequent reasons for a shiatsu session are:
– back aches: lumbago, neck pain, sciatica…
– stress, anxiety, nervosity, 'light' depression, burn-out
– daily well-being of people suffering from fibromyalgia (provided they can be touched), arthrosis, arthritis, rhumatisms…
– covid after-effects, long covid, covid vaccination side effects
– digestive problems: nausea, diarrhea, constipation, sour stomach and esophageal reflux, slow intestinal transit, bloating, gallblader issues…
– neurovegetative issues: chronic fatigue, headaches, sleep issues, spasmophilia…
– accompany alcohol or nicotine withdrawal
– periods dysfunctions, fertility and menopause issues
– sinusitis; asthma; dry eye syndrome; heavy legs…
Contraindications
There is no contraindication to shiatsu–except of course if your practicionner suspects you're having a heart attack, a stroke or a thrombosis. The shiatsu will be careful and adaptated in case of:
– pregnancy
– history of thrombosis or phlebitis or else significant blood circulation issues; advanced osteoporosis, recent fracture or burn, infectious disease, very high blood pressure, serious heart or liver disorders, cancer
– serious psychiatric condition (bipolarity, schizophrenia…)
The only two contraindications are actually dictated by prudence:
– Amyotrophic Lateral Sclerosis (also known as ALS or Lou Gehrig's disease) since we don't know whether shiatsu pressure can contribute to spreading the disease,
– and some cancers and metastatic cancers.

Shiastu is not a substitute for a medical treatment. In case of doubt or chronic illness, please contact your doctor to check whether shiatsu suits your condition.
What about children? (3 to 12 yo)
Their energetic system is still in constant evolution. Sessions are shorter and take into account their present needs: the work will address symptoms (for example bed-wetting) and not their energetic ground.
℘ A shiatsu treatment takes several sessions ℘
Session format

The format may vary depending on the needs and condition of each client.
A 'full' shiatsu session for adults or teenagers usually lasts 1 hour 15minutes–expect 1 hour and a half for your first appointment.
Shiatsu sessions for children (3-12 yo) last between 30 and 45 minutes depending on the age and the ability of the child to remain still. These two parameters inform the session.
The session includes, first, a preliminary interview in order to make your energy assessment and to know what you would like me to address. Please note that this energy assessment is not a medical diagnosis.
Then you take place on a comfortable massage table (a shiatsu on a futon on the floor or a on a chair might be offered if the table is not suited to your condition, for example in case of ankylosing spondylitis.)

You remain fully clothed during the whole session, so you might want to be dressed comfortably. However and with your agreement, I may ask you to show me your skin in specific zones, for instance in case of a rash, because the notions of color, texture, warmth might be an important information.
Contrary to modern apucunpture (based on the functions of specific points which are associated to regulate energetic organs), the shiatsu I practice addresses:
– what we call 'meridian syndromes', that is to say identifying and treating energetic malfunctions, so that your body understands it does have better possibilities to work towards its best available energy balance
– the painful areas in your body, your usual tensions, your emotions at the time of the appointment and past injuries and wounds;
– your body's reflex zones to correct internal malfunctions, with an emphasis on fascia work.
The purpose is to dissolve obstacles to the circulation of Qi (or Chi, or Ki, vital energy) to improve your self-healing abilities and, consequently, your health.
Because the practitionner focuses on her touch, the session is performed in silence.

At the end of the session, I give you feedback and receive yours, and possibly suggest some self-shiatsu exercises or else dietary changes.
After the session, given shiatsu stimulates/calms down the neurovegetative system, it is recommanded to rest and to drink water often and in small quantities at a time to help draining toxines.
Frequency of sessions
One single session may be enough to bring back a better balance but in most cases, especially if the issues you came for have been there for a long time, it will require at least 3 to 4 sessions, ideally every two weeks, to trigger and then consolidate the rebalancing process. Then, if need be, the frequency will be determined depending on your needs / the kind of dysfunction.

There's no specific frequency for general well-being shiatsus, it's anytime you like 🙂

As far as 'maintenance' is concerned, it is generally recommanded to make an energetic check during the change of energetic seasons according to the Chinese energy calendar: roughly (give or take a few days, it is a transition process)
– between 30 October and 15 November: Autum/Fall turns into Winter
– between 21 January and 10 February: Winter turns into Spring
– between 27 April and 12 May: Spring turns into Summer
– between 29 July and 15 August: Summer turns into Autumn/Fall (biggest seasonal transition, called Late Summer or Fifth Season, because the energy polarity turns from Yang to Yin)
→ Back to homepage (English)